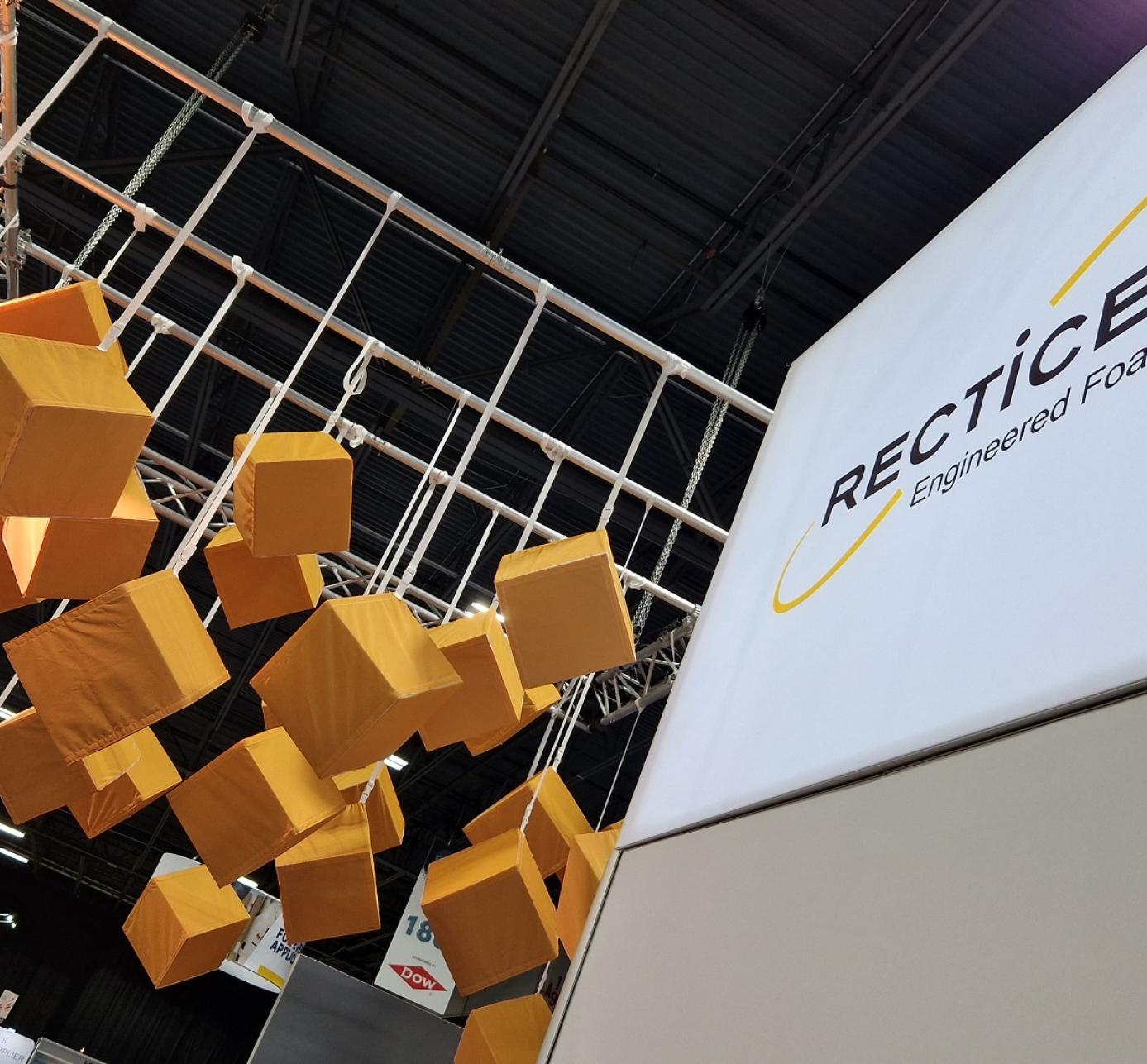 The fifth edition of Foam Expo North America took place in Novi, Michigan from 28-30 June 2022. The world's largest dedicated exhibition and conference for manufacturers and buyers of technical foam products and technologies, it welcomed more than 60 speakers and over 400 exhibitors. It was the ideal opportunity for the Recticel Engineered Foams team to meet its customers again in person.
Recticel Engineered Foams offers one of the most comprehensive portfolios of foams and systems on the market, spanning numerous applications in industry, mobility and consumer & medical care. All these customer segments were represented at the Recticel Engineered Foams booth, making it extremely popular with visitors to the exhibition.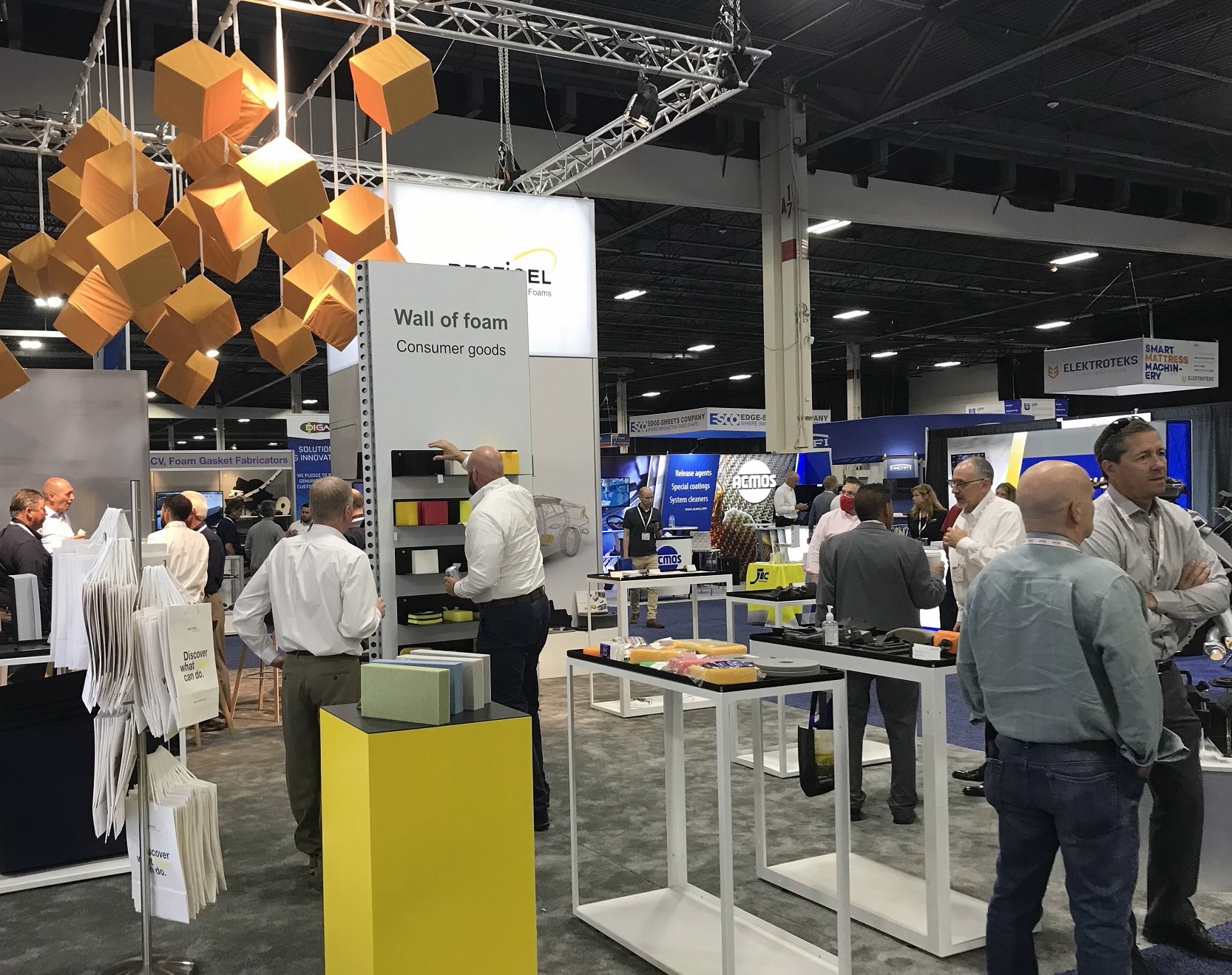 An eye-catching approach to industrial noise
Many industrial environments rely on noise reduction solutions to protect employees and customers. Recticel Engineered Foams shone a spotlight on its expertise in this area by giving its acoustic cubes for sound absorption a prominent place at the booth. Visitors were intrigued by their unique and attractive appearance and interested to find out more. Suitable for a wide range of applications, the cubes are particularly useful in large spaces with high ceilings, such as conveyor rooms and production halls.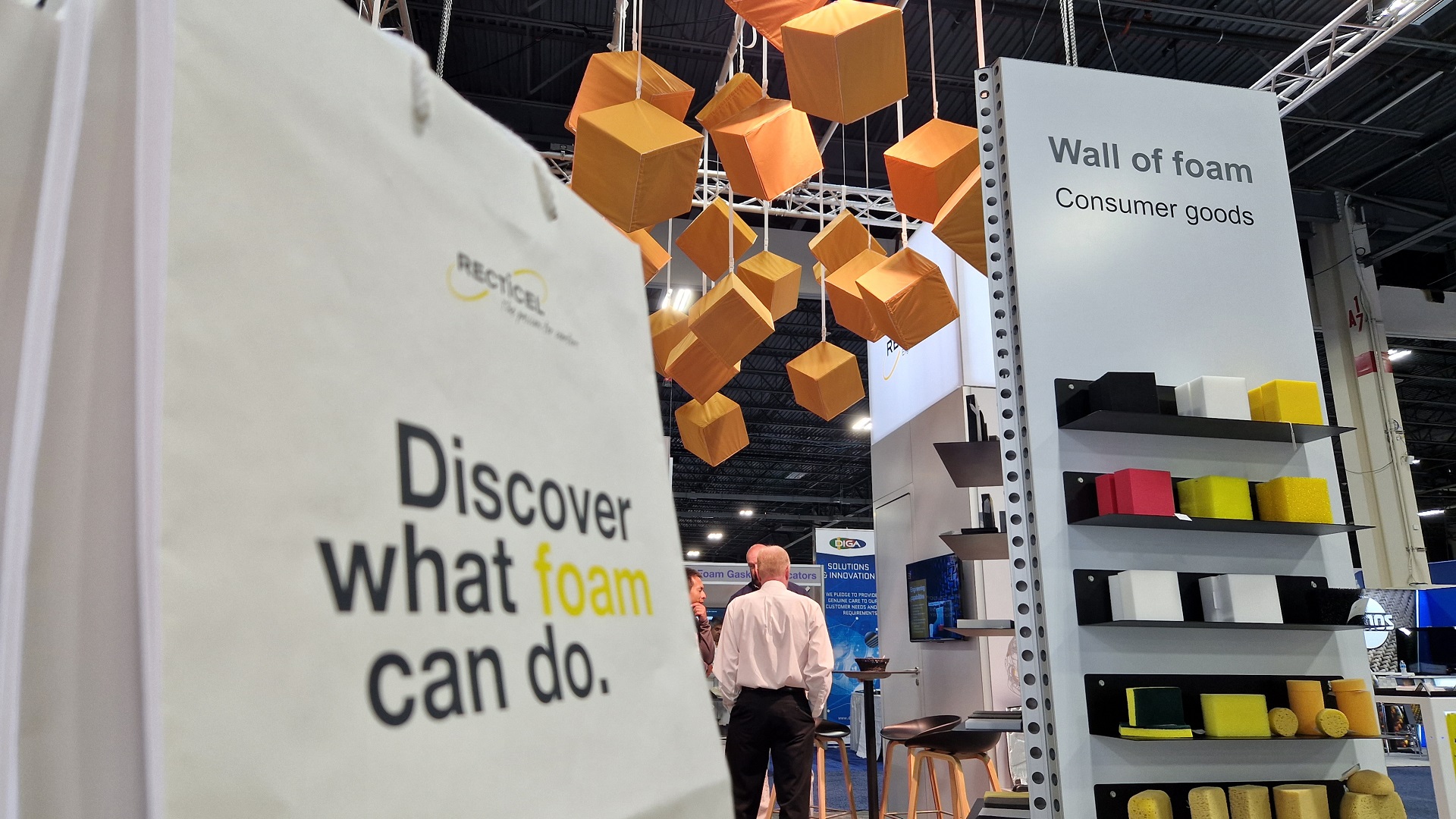 Recticel Engineered Foams experts were also on hand to discuss tailored silencing solutions for industrial equipment. These combine different materials to match each device's individual noise signature, which depends on the equipment's specific purpose and components. The business line also supplies air and gas sealing products which are essential to guarantee efficiency and durability in almost all equipment, including HVAC systems. Its solutions are also used in compressors, at the air inlet and discharge air, to ensure correct operation, avoid machine damage and protect the quality of the end product.

Making the difference for vehicle manufacturers and drivers
Foams are among the most versatile materials in today's automotive interiors industry, helping to create a unique experience for drivers and passengers. As one of the largest flexible polyurethane foam manufacturers and a leader in low-VOC emission products, Recticel Engineered Foams offers a unique range of solutions for automotive interiors and engine compartments. They are created and tailored using a number of processing technologies to create specific aesthetic and tactile effects for seating covers and accessories, headliners and door panels. They are used to create silencing and sealing components that reduce cabin noise and enhance comfort and can also be produced to meet specific demands with regard to VOC emissions and flammability.

Staying ahead of trends in consumer goods
The ability to adapt characteristics such as density, hardness, air permeability and colour makes foams ideal for meeting the growing consumer demand for more variety and customisation. Visitors to the Recticel Engineered Foams booth were able to explore this potential through a number of products with unique features. These included a stretchable foam with high elasticity, a scrub foam that changes mechanical properties depending on water temperature, an advanced liquid sealing foam, a high-performance foam for in-situ applications and a hydrophobic/oleophobic melamine foam for moisture and high temperature applications.

Individually tailored PUR foam systems
Many visitors were keen to find out about the business line's PUR systems for specific requirements. Recticel Engineered Foams supplies specialised PUR foam systems covering the entire portfolio spectrum of system formulations, from flexible to integral skin and rigid to viscoelastic foam solutions. Many of these are based on common propellants that do not harm the ozone layer and can cover specific requirements, such as flame retardancy, anti-static properties or demands for reduced weight and emissions. These systems are widely used in the mobility sector, furniture & bedding industry and in the medical & health care area.